When I set out to be a food writer, I never thought my specialty would be food, but instead the people making the food. I love food, but I have always loved people more. Except for one thing — pastry.
In many ways, I am like a pastry: created out of way too much effort, with the intention of bringing a small, frivolous joy into the world.
I have a running list of pastries that have changed my life. I encountered many of them while abroad, subsidized by generous financial aid at my college, but on a tight budget. I couldn't afford restaurants, so I lived off pastries instead.
The oversized Zimtschnecken (cinnamon snail) at the Zeit für Brot in Berlin, my grandmother's hometown: growing up in the States with a German mom, I never knew that I could feel at home the way I did in a cafe full of serious people in shared resplendence of a not-too-sweet but very rich pastry.
The kakaos csiga (chocolate snail) at an unmarked bakery in Budapest: I was dead to the world going through my first heartbreak and this perfect pastry, made with a dough that had the best parts of brioche and croissant, unlike anything I had seen before, reminded me that there was more life to come.
The pain aux raisin from the cafe near where I worked in Bad Wildungen, Germany: something about the custard filling and the watery cappuccino, shot out of a machine at 5 a.m., made me feel like I could handle being an adult.
In my field research, I have become a connoisseur of pastry of all kinds. Here are my favorites in Tucson and the surrounding areas.
Note: in an attempt to keep this list at a reasonable length, I am not venturing into other kinds of baked goods like bread, cake or cookies. I am leaving out some of my favorite bakers and bakeries, but that's because I love them for something other than pastry. If I'm missing your favorite pastry, let me know: elueders@tucson.com.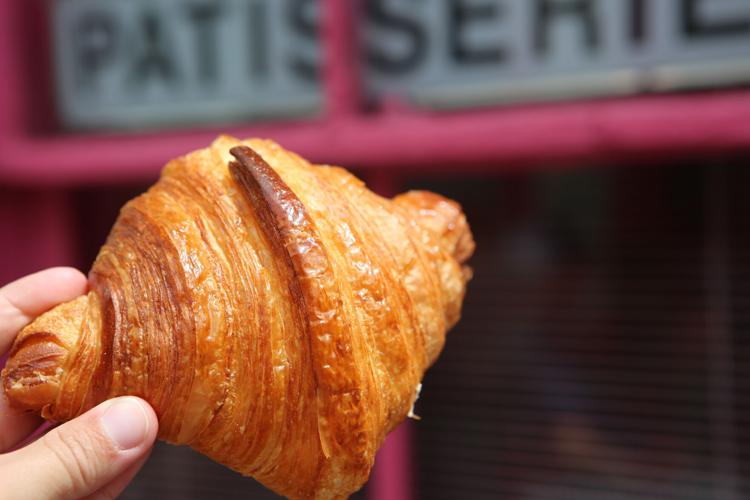 Croissant
in Southern Arizona: Patisserie Jacqui, 91 Main St., Bisbee
in Tucson: Houlden's Rise Above, 5029 E. Fifth St.
My favorite plain croissant is in Bisbee at Patisserie Jacqui. They use Barrio Grains' Sonoran wheat flour and her lamination has the most beautiful honeycomb I've seen in Southern Arizona. What impresses me is the flawless balance: oftentimes a crust can be just a bit too dense or too delicate, the interior slightly too chewy or too full of air. Owner Jackie Oatman's are a Goldilocks croissant, nailing all the pastry's defining traits down a perfect center.
When I lived abroad, I was able to visit Paris, but on a budget that meant I couldn't eat in restaurants, only bakeries. Parisian bakers make yearly lists of their best croissant makers and I planned my day around visiting the winners. Jackie's croissants are the first I've had stateside that could have been on my itinerary.
My favorite plain croissants in town are at Houlden's Rise Above. Though I appreciate owner Hannah Houlden's strong values and dedication to providing vegan pastries to Tucsonans, her croissants are superlative regardless, with beautiful layers. The fact that they're vegan only adds to the miracle.
Note: For those of us with gluten intolerances, Patisserie Jacqui's passionfruit cheesecake is gluten-free heaven.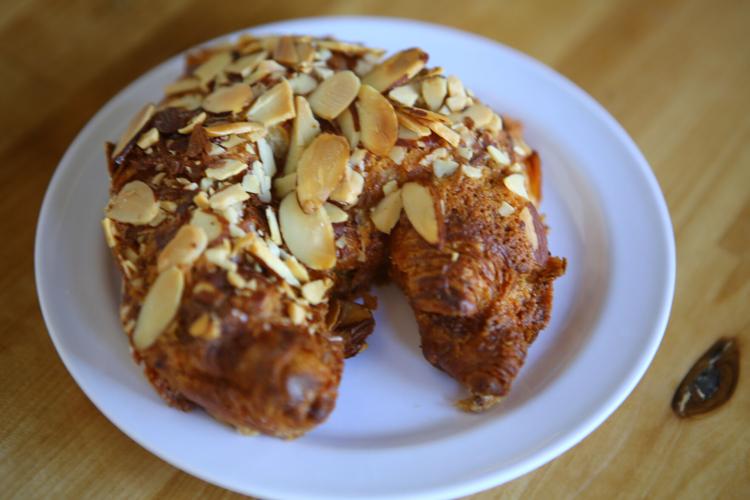 Almond croissant
Ren Coffeehouse, 4300 N. Campbell Ave.
One of the biggest shocks of my time as food writer was when the barista at The Loop's Ren Coffeehouse told me that they had been baking their croissants in a toaster oven for the first several years of their operation. I'm happy for their talented team that they now have a proper bakery in their sister location on the other side of St. Philip's Plaza. Whatever they put in the almond frangipane should be a controlled substance.
Bonus tip: Recently, 5 Points' bakery manager Chandler Donald debuted a collab with Ren of some heavenly orange cardamom brioche rolls. Let's hope their partnership continues!
Pain au Chocolat
Cafe Francais, 7831 E. Wrightstown Road
We didn't start out on the right foot. I am not an early riser on the weekends, so I would never get to the Rillito Farmers Market in time for the choice picks on Sunday. What I tried seemed stale, so I initially wrote them off — until my dog had a vet appointment before work on the far east side of town. I figured, let's get a head start and visit Cafe Francais right when they open. I'm so grateful I gave them a fair chance.
When I got there in the morning, the pastries were still warm, the chocolate in the pain au chocolat slightly melted. The confection is gorgeous, with a beautiful wash and crust. It's especially delicate, soft and airy, which could contribute to how quickly they can get stale, but at the ripest moment is a pleasure unlike any I've had in the realm of Tucson pastries.
Kouign Amann
5 Points, 756 S. Stone Ave.
I recently visited the woman who had this job before me in her new home on Long Island. When I mentioned that my favorite food is pastry, she immediately asked if I had tried 5 Points' kouign amann. I replied immediately: of course I have! It's one of three spots in Tucson that regularly bakes the outrageously buttery pastry (one is the cottage baker Cal's Bakeshop, who also does cronuts, and the other is Cafe Francais, which sells great, enormous ones for $11-$16, depending on the filling). I like 5 Points' best because it's less heavy than the others, but still decadent, with a uniquely tangy filling.
Turnover
La Estrella Bakery, multiple locations
La Estrella is renowned for its doughnuts, which are my favorite in town. When the list of outstanding treats and pan dulce hits the floor — doughnuts, tortillas, conchas, elotes, orejas, empanadas, to name a few — you would be forgiven for not noticing the cherry turnovers. But La Estrella's turnovers have the airiest puff pastry in town. The delicate pastry is not too sweet, but it's dusted with crystal sugar that creates a mouthwatering balance. The dough could be filled with practically anything, but the sour note of cherry rounds out a truly outstanding pastry.
Bear Claw
Le Buzz, multiple locations
My dad's favorite pastry is a bear claw, so whenever I see one, I pick one up for him. When they lived on the west side of town, my parents' go-to spot was Village Bakehouse, where they have especially soft, almost bready bear claws coated in a gently crispy layer of icing. But when we'd drive up to Mount Lemmon, we'd always make a stop at Le Buzz to pick one up there.
I'm not anti-danishes, but they're rarely my go-to pastry — unless I'm at Le Buzz, where they make them extra delicious. Beyond the bear claw, they'll also make danishes with fillings like Nutella that I would otherwise think are too sweet, but somehow Le Buzz pulls it off.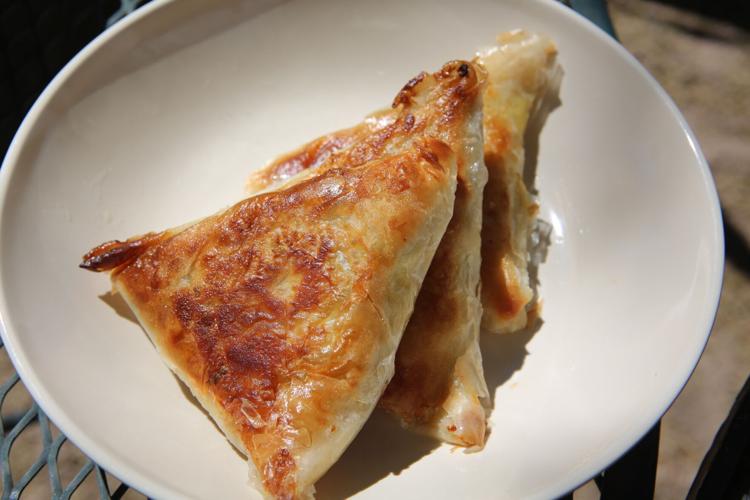 Briwat
La Merguez
La Merguez's food cart is hard to track down. They don't pop up much, so make sure to follow them on social media to hear about their upcoming events or locations. Though the heart of their menu is variations of the eponymous Moroccan lamb sausage sandwich made with Holy Focaccia's semolina Khobz bread — painstakingly optimized to be as close to co-owner Zak Boucetta's memories of his youth in Tangier, Morocco — the showstopper pastry is briwat. The phyllo pastry is filled with a blend of cheese and spices that perfectly straddle sweet and savory, so if you dip it in imported honey, it's dessert, or in harissa, it's a snack. It's not just special because it can only be found at one place in Tucson, it's a shame that the treat is not more widely available here.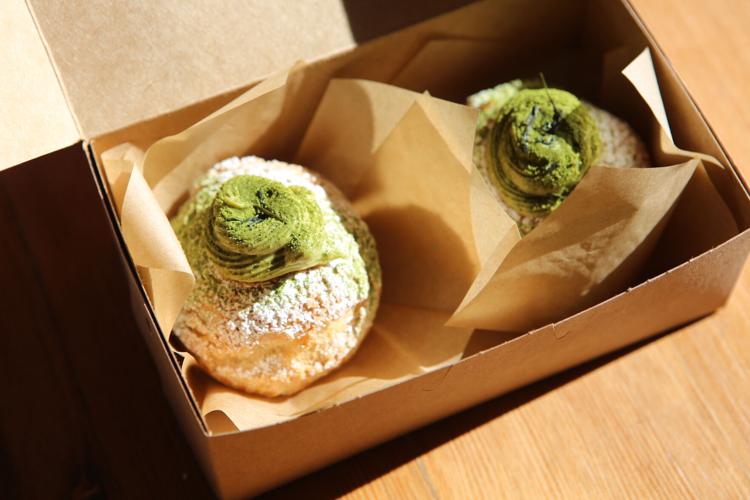 Choux
Okashi Ice Cream and Confections
As a kid, I thought eclairs were the most special dessert in the world. At the time, I was entranced by the mirror-like chocolate ganache and no food had me in a firmer chokehold than pastry cream. I hardly paid attention to choux, the vehicle for my cravings. As I've matured, I've come to appreciate that vehicle for its versatility and craft.
Like many pastries, choux is not easily made, and I'm astonished by anyone who can make it as reliably as Dean Blair of Okashi Ice Cream and Confections. His matcha choux is marvelously, deceptively light, from the air-puffed crust to the grass green pastry cream. And unlike the sordid eclairs of my youth, these matcha choux are not too sweet.
Okashi's menu can change by the week, which allows Dean to offer pastries you can't find anywhere else in Tucson, like eggy, spongy caneles or the traditional-style kouign amann (which looks more like a cake than a croissant). Stay up to date on his most recent offerings on his social media.
Cannoli
Roma Imports, 627 S. Vine Ave.
To me, cannolis connote a very specific mood. While most pastries can be enjoyed with a cup of coffee and some fruit for breakfast, I am usually eating cannolis by themselves, in my parked car, in the late afternoon of a particularly hard day. If you see me with a cannoli, that may suggest that I had to break glass in case of emergency, because the level of decadence the deep-fried, mascarpone-filled treat achieves is one saved only for the direst situations — not because I avoid eating unhealthy food, but because when something is so healing, it must be reserved only for the most sacred uses. The only place I get my cannolis in Tucson is Roma Imports, because they make them well (not a whiff of staleness or sogginess and generous chocolate chippage) — and it's closest to my house.
When in a cannoli mood, I don't usually have the presence of mind to drive across town to Mafia Kitchen, Viro's Bakery or Fortunato's, so, unfortunately, I cannot attest to those cannolis.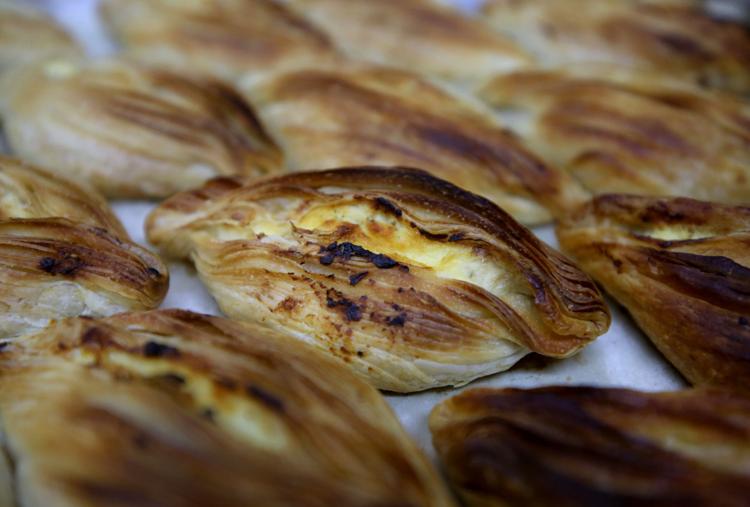 Pastizzi
Malta Joe's
Tucson is very lucky to have Malta Joe's pastizzi factory and food truck. Pastizzis are a Maltese treat, shaped like sfogliatelle (which you can get at Roma Imports), but with more diverse usage. They are nearly impossible to find in the U.S. — major cities like Chicago and Los Angeles don't have large enough Maltese populations to have a bakery. People will detour to Tucson en route from California to Texas to introduce their kids to the pastry that can be made savory or sweet, but always will have a multi-layered shell, which is, in Joe's case, shaped by hand.
What makes Joe's pastizzi particularly special is that the fillings are as notable as the delicate pastry. His split pea curry is dynamic, flavored with aromatics and spices that bring life to the delectable, but mild, canvas of the pastizzi shell. Other bakeries might be able to recreate the pastry, but he excels at bringing the flavors of Malta to us in the fillings as well.
Rugelach
Nadines Bakery, 4553 E. Broadway
Though Tucson has a vibrant Jewish community, we lack a robust Jewish food scene in town. There are only two reliably Kosher eateries in Tucson: the snack counter Cafe at the J and Nadines Bakery.
Rugelach is one of my favorite desserts — I especially love the chocolate fudge filling and the soft bite of the pastry, made to soak up coffee — and for most of the year in Tucson, you can't find them anywhere. Of the entire year, the week leading up to Rosh Hashanah, you can find them at Nadines, in all kinds of flavors: chocolate, cinnamon nut, raspberry and apricot. (Some years, you can get raspberry ones at Beyond Bread around Hanukkah.)
If you're craving rugelach during any other time of the year, though, the closest you can get would be what Nadines calls a chocolate almond tea biscuit. Laced with fudge on top, the soft, slightly sweet biscuit is wrapped around a chocolate almond filling. Though the texture is a bit different than rugelach, the biscuit hits the same needs of potent chocolate flavor with a base that pairs well with coffee, in case a craving hits off-season. Both the rugelach and biscuit are Kosher, but Nadine's rugelach are Kosher dairy.
For those of us who love rugelach but are gluten-free, Dedicated also makes the Jewish pastry leading up to Rosh Hashanah.